Gravity based wind turbine foundation joint industry project (GBS wind JIP)
Publieke samenvatting / Public summary
Background
Gravity based structures are support structures held in place by gravity. They are widely used in civil engineering and the oil and gas industry. Now, with the trend of bigger wind turbines installed at higher water depth, several gravity based wind turbine foundations have been developed. However, the movements of gravity based structures during transportation and installation are not well captured by standard design methods. It is necessary to optimize the workability of the installation of such large concrete structures, to improve scalability and reduce the total cost of offshore wind energy. It is also necessary to enable transport and installation at more severe environmental conditions.
Objective
The objective of the GBS wind JIP is to improve the engineering methods for the logistics, transport, and installation of gravity based wind turbine foundations. This will lead to more effective and safer operations with better workability and optimised logistics.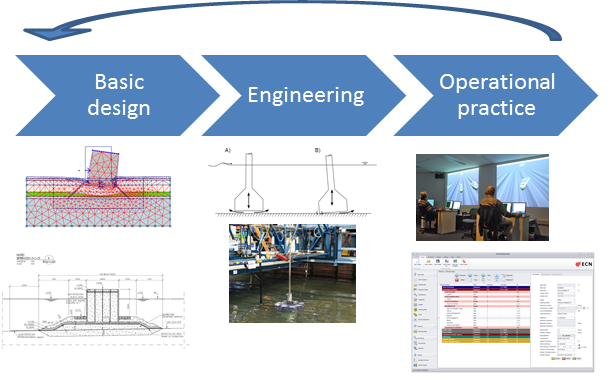 Short description of activities
The work plan consists of six technical work packages (WP). The scope of work is split up as follows:
WP 1: Base case design: basic design of two GBS foundations, including the selection of a locations offshore including the relevant environmental conditions.
WP 2: Transportation: starting at identifying the existing methods. Followed by investigation the towing resistance & course stability, required tug capacity and operational practice.
WP 3: installation: starting at identifying the existing methods. Followed by investigating the motion response, hydrodynamic loads, seabed interaction and operational installation practice.
WP 4: logistics: integrated project logistics and cost calculation using ECN's planning tool.
Wp 5: Recommended practice: recommended design and analysis methodology.
Wp 6: JIP Management: Will supervise the overall project and monitor the overall progress.